Luminosity Beach Festival 2020 Location & Phase 1 Announcement!
Talk about a great way to end the year in style; Luminosity Beach Festival has just unveiled their phase 1 lineup for 2020!
Next year the festival will be making its happy return to its long-time home to Zandvoort beach at Beachclub Bernie's and are aiming to return the mainstage on the beach as well! With a great new beach space for fans to explore, the LBF experience will be more immersive than ever before. Set to open at 12am and finish at 23pm, the festival will see extended set times and performances throughout, in what promises to be its most beachy edition yet. This decision comes after months of deliberation and planning with local authorities to ensure we can provide you with an event that meets your expectations but that is not in danger of breaching any government and local council rules.
We would like to thank all of the hard workers who made our event possible at Beachclub Fuel, for many of you this venue will hold a place in your heart and many Luminosity memories.
But don't fear, Beachclub Fuel will still be the venue for our FSOE weekender the end of April and the 'At The Beach' party the last weekend of August, with a smaller, more intimate version of the beach festival, so don't forget to join us there!
Making their way to #LBF20 the weekend of June 25-28 will be Aly & Fila, Gareth Emery, John O'Callaghan, Key4050, Markus Schulz, Paul Oakenfold, Giuseppe Ottaviani 3.0, Simon Patterson, John Askew and many more!
In addition on Friday June 26th all seven VII shadows will debut and join forces with their full crew – Simon Patterson, Avalon, John Askew, Sean Tyas, Will Atkinson, Alex Di Stefano and Orkidea will land into Zandvoort beach for a special journey.
Check out the complete phase 1 lineup below. Tickets for #LBF20 are on sale now at www.luminositybeachfestival.com – early birds are now 90% sold out already.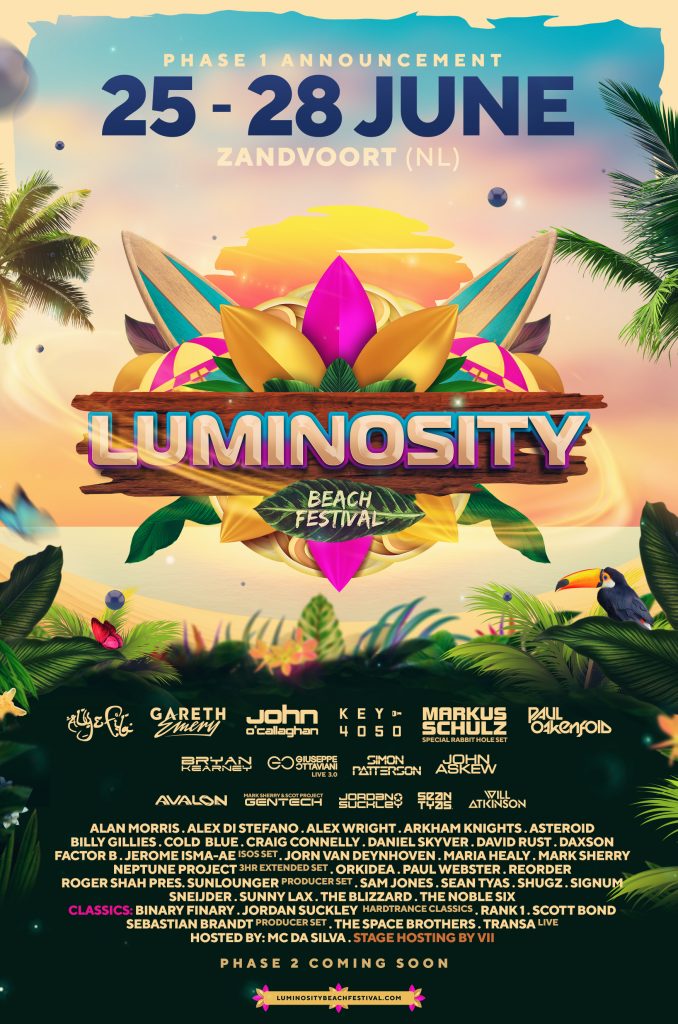 Since its humble beginnings in 2008, Luminosity Beach has set itself on the map as an pure trance and exotic getaway for music lovers in the region and those adventurous enough to look further than the standard large-scale festivals in Europe.
With a further phase in the planning for early 2020 and with many more surprises in store, Luminosity Beach Festival is expected to sell-out as usual.
Tickets: www.luminositybeachfestival.com
Comments
comments