Accommodation info
Luminosity Beach Hostel 2018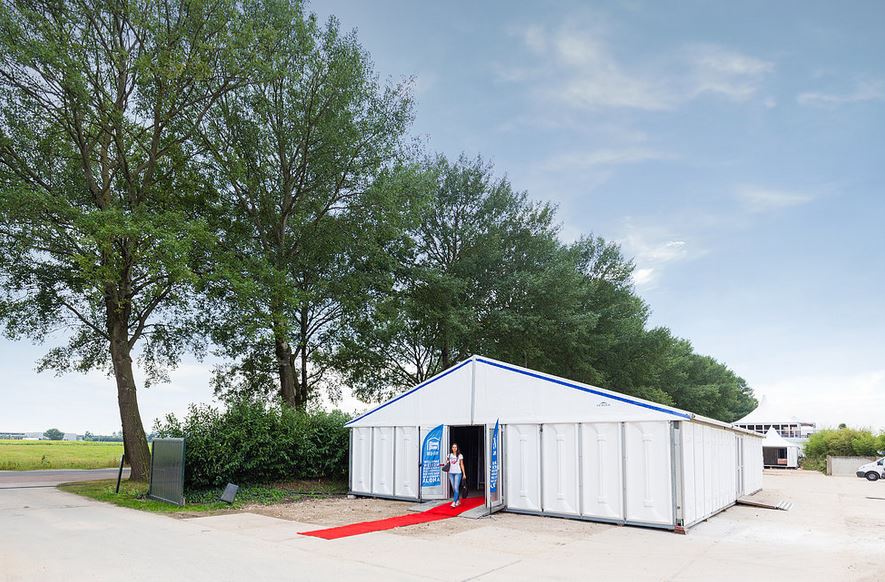 The ultimate accommodation for traveling trance heads! Stay in a huge tent, with maximum 80 fellow trance lovers. Bookings can be made solo, duo or with bigger groups easily.
For only €49,- euro's* p.p. you have your own bed, for the night.
Shuttle stops at the gate of the campsite, or only a 10 minute walk from the event-venue.
A cheap, and easy alternative.
Sanitary facilities, a kiosk(breakfast) and possible bike rental will be covered by the campsite.
Beside this we can make sure you'll have a set with a pillow, blankets and towel, shower-coins, and a locker where you can store some clothes and belongings.
*Tourist taxes & a deposit of €100,- (CASH ONLY) has to bee paid at the reception of the campsite, where you'll check in. You'll receive the deposit back once your check-out is completed.
Available between: 21-06-2017 & 27-06-2017
BOOK YOUR BED HERE


*Tourist Tax Excluded
***
Travel info
If you come by car, there is a big parking area near Beachclub Fuel, 3 min walk.
Public transport is available to reach Bloemendaal aan Zee. The easiest way is to get off the train in Haarlem and catch bus 81 or 84 to Bloemendaal aan Zee (bus stop "Strand, Overveen"). From there you have a 3 min walk. You could also get a train to Zandvoort and same buses to Bloemendaal (same stop).
For transport schedules and planning please check: <<9292>> (also available as a "9292" mobile app)
Shuttle info
Every day before the event kicks-off the Luminosity Shuttle is on the road for you! =)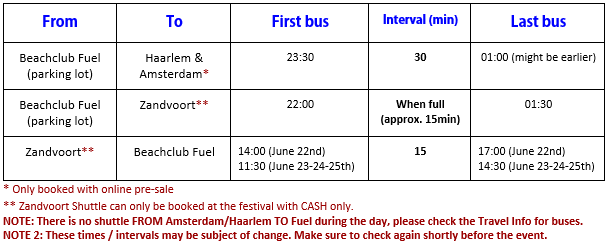 To/From: Zandvoort

 (3 stops)
1.1 Camping de Duinrand
1.2 Center Parcs
1.3 Zandvoort Station
Ticket price: €5,00
Schedule:
During the day (To the event venue):
22 June 2017 between 14:00 and 17:00.
23 / 24 & 25 June 2017 between 11:30 and 14:30
During the night (From the event venue):
22 / 23 / 24 & 25 June 2017 between 22:00 and 01:00
*Zandvoort Shuttle can only be booked at the festival and is Cash Only*
———————-
To get you home safe, Even if "home" is not directly around Zandvoort..
To: 

Haarlem (3 stops) & Amsterdam Sloterdijk (1 stop) !!ONE WAY TRANSPORT ONLY!!
*Only available at the online presale*
2.1 Haarlem Central Station (backside Kennemerplein)
2.2 Haarlem, Tempeliersstraat
2.3 Haarlem, Turfmarkt
Ticket price: €10,00
2.4 Amsterdam Sloterdijk
Ticket price: €12,50
(a public transport variety-hotspot with all services available. also for transport across)
Schedule:
During the night (From the event venue): 
22 / 23 / 24 & 25 June 2017 at 23:30
———————-
Sunday evening shuttles will also run towards the After party, At Panama Amsterdam, between 22:00 and 01:00 o'clock.
On Monday morning after the LBF17 Afterparty, the shuttles will take you home safely every half an hour, starting at 04:00 until 07:00 A.M.
———————-
Luminosity events is not liable for missing a shuttle. It is the guests' personal responsibility to be on time for any shuttle (approx. 15 minutes before departure time)