Hey Luminosity Family!

It is almost time for our Luminosity At The Beach event! From Friday August 20 till Sunday August 22 we are happy to welcome you all at the beach of Bloemendaal Aan Zee, to enjoy some of the greatest names in trance and progressive!

As mentioned before in our previous updates, there will be some changes and restrictions for this year's Luminosity At The Beach event.

IMPORTANT:
Please make sure to read the following information carefully, so you are completely up to date about everything. We want to make sure all our visitors will be able to enter the Luminosity At The Beach event this week as smoothly as possible without any problems or unwanted delays.

The Dutch government has announced that only outdoor events with a maximum capacity of 750 people per location are allowed. That means, it is not possible to have indoor events or indoor stages. Because of these very strict conditions, we had to make some changes in order to make sure the event could still happen instead of cancelling / postpone another event.

Our plan was to have 2 different venues each day (Beachclub Fuel and Beachclub Bronze) with an indoor- and an outdoor stage for each location. Because of the new restrictions we moved the DJs from the indoor stages to the outdoor stages as well. Unfortunately this means some previously announced extended sets can not happen anymore and due to travel restrictions some of the DJs won't be able to make it anymore either. However, we can start 1 hour earlier each day (4 PM), so every DJ is still able to play for at least 1 hour! The current timetable per day can be found here: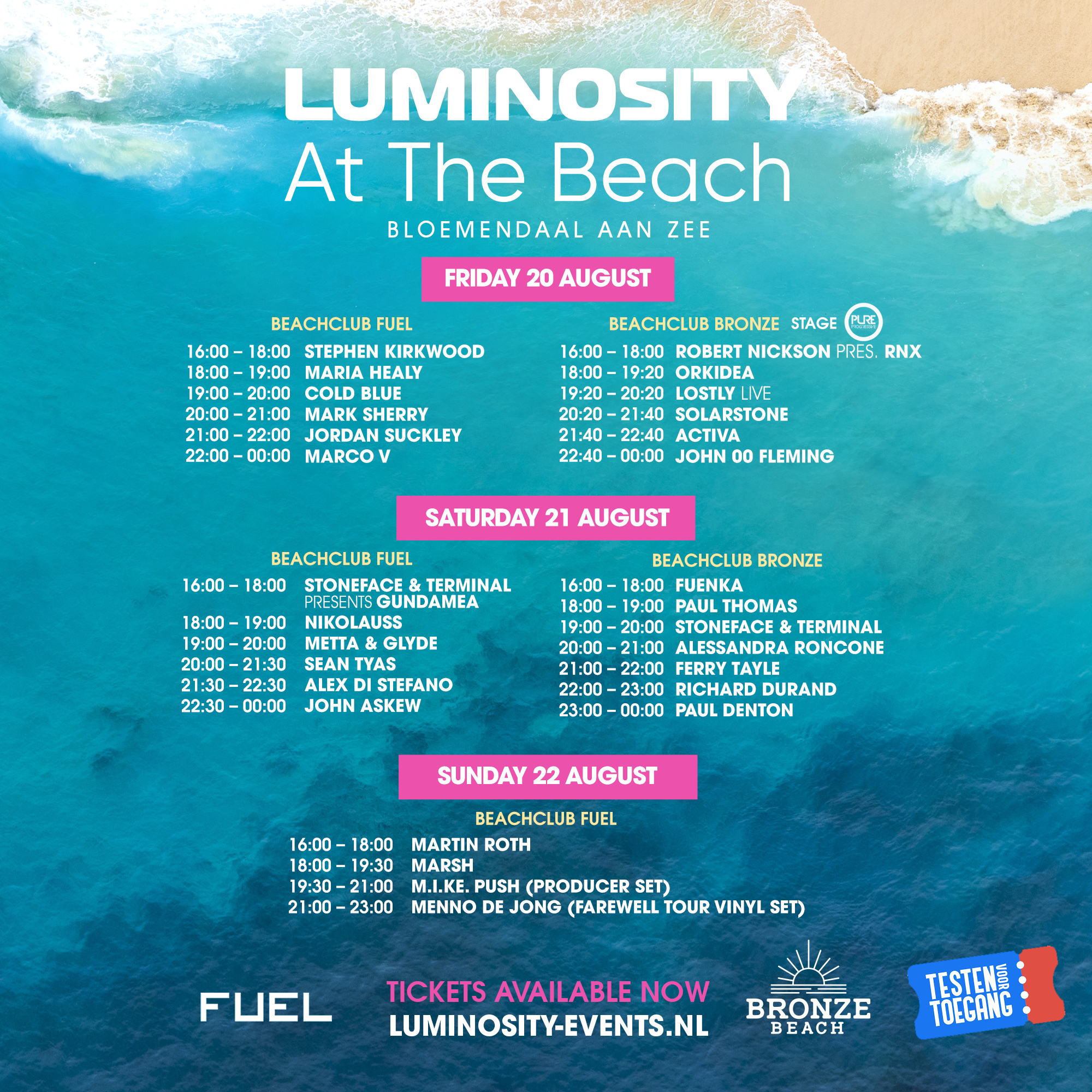 I
What does this mean for you as a visitor? Because of the 750 visitor rule per location it is unfortunately not possible to visit both locations on the same day or switch venues during the day. This means all visitors need to make a choice which of the 2 locations they want to visist BEFORE the event. We only have 1 venue for Sunday, but if you have a ticket for Friday and Saturday, you have to let us know for each day, which of the 2 locations you want to visit per day. Just to make sure, you can choose location A on Friday and location B on Saturday (or the other way around).

HOW CAN I CHOOSE WHICH LOCATION I WANT TO VISIT?
To choose which of the 2 venues / locations you want to visit, please request a voucher via THIS link. Please make sure you have your ordernumber available. In case you don't have this anymore, kindly log in to your Paylogic account to see all your ticket related details.

IMPORTANT: In order to select which of the 2 locations you want to visit, you need to REQUEST A VOUCHER FIRST! After you requested a voucher, you will receive an email (please make sure to check your spam folder!) with a link to the ticket shop. You can then make a selection which location you want to visit per day. WHEN CHECKING OUT, PLEASE MAKE SURE TO USE THE VOUCHER CODE AND SUBMIT THE CHANGES!



You will then be able to download your new ticket, which does mention the date and which of the 2 venues (Beachclub Fuel or Beachclub Bronze) the ticket will be valid for. We can NOT change this afterwards unfortunately.

VERY IMPORTANT: The option to select the location is only possible for the main booker of the tickets. So if you are the main booker of the tickets, please double check with your friends and ask them which location they want to visit on Friday / Saturday (depending on which tickets you have bought of course). For example, if you bought tickets for yourself and 3 other friends, you (the main booker) will be the only person who will receive the voucher, which can be used to choose which location you want to select. So if (in this example) you bought 4 tickets, you need to make sure you make the choice (after asking your friends of course!) which location you want to go, for all 4 purchased tickets. This is very important to make sure everything at the entrance will go smoothly.

PLEASE MAKE SURE TO SELECT ASAP WHICH LOCATION YOU WANT TO VISIT! FIRST COME, FIRST SERVE! Due to the current restrictions of the Dutch government, we are dealing with the 750 visitor capacity rule. So please make sure you submit your selection latest Tuesday August 17!

IMPORTANT:
If you purchased an Early Bird ticket(s) before, you obviously got those ticket(s) for a cheaper price. Unfortunately it is not possible at this moment to make a selection for people who purchased an Early Bird. Of course we want to make sure you got what you did pay for, so as a solution you can bring your original (printed) Early Bird ticket to the venue. At the token sale booth you can then get the difference in price in tokens. Thank you for your understanding!

If you can not make it to the event but want to keep your ticket for next year (new dates will be announced ASAP!) you can select the "hold your ticket" option, so you can use your ticket for next year. It is also possible to request a voucher for a future event. If you want to do this, please use THIS link.

TICKETSWAP:
We are currently talking to Ticketswap and Paylogic to find a solution for people who purchased a ticket via Ticketswap. FYI, Paylogic is our regular ticket partner and Ticketswap is a third party selling tickets. We hope there will be a solution ASAP, which we will post as soon as we have more information and details. Thank you for your understanding!

OTHER IMPORTANT INFO:
Visitors of events / parties in The Netherlands are only allowed to enter (obviously) with a valid ticket. Besides that all visitors will have to show (1) they are fully vaccinated, (or 2) have a negative test no older than 24 hours, (or 3) or have had coronavirus within the past six months. (So one of those 3 options!). Otherwise it is NOT possible to get acces to the venue unfortunately. In case you need a test, you can make a free appointment via www.testenvoortoegang.org

If you can not provide any of the required information, we can NOT let you enter the event. Due to the current situation we have to be very strict about this. Also if you travel from abroad, please make sure you are aware of all rules and info before you travel to The Netherlands.

Thank you all for your patience and your understanding, we can't wait to see you all at the beach!

Stay safe!

Team Luminosity
Comments
comments